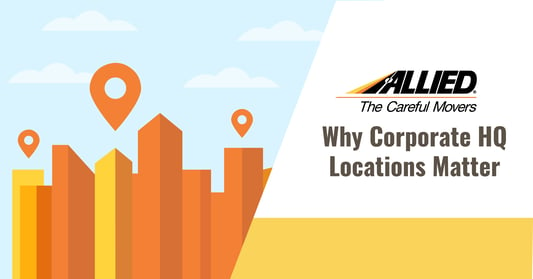 The digital age and rise of the work-from-home economy may have companies thinking that their location isn't as important as it once was.
But although norms are evolving as employees see more flexibility with remote work, where a company is based still matters, and in-person work environments can promote what Gallup calls the four C's: connection, collaboration, creativity and culture.
So, how do companies choose a location for their headquarters? From tax incentives and the talent pool to airport proximity and other transportation options, there are a variety of things that can factor into this important decision. But beyond that, it's essential to think outside the box and beyond popular cities like New York and San Francisco. And as times change, rethinking how you picture offices is essential.
Understanding the Hub-and-Spoke Model
COVID-19 has spurred employees across the country to rethink where and how they work. That changing mindset doesn't mean that physical locations aren't important for companies, but it has shifted how we think about offices.
An increased interest in remote working — and companies' increasingly flexible policies — has prompted moves to smaller, less-crowded suburbs and exurbs as well as smaller cities. This shift has resulted in a more distributed hub-and-spoke system of corporate location.
Rather than having one downtown location, companies can establish smaller satellite offices alongside a central location. The hub — or that central location — allows for collaboration when and if it's needed. The spokes may be smaller in-person offices or even the coffee shop where a remote employee is camped out for the day.
This forward-thinking model incorporates flexibility — an issue that increasingly matters both to companies and employees alike. A hub allows for the in-person collaboration and unified culture that many companies still value; even during the pandemic, the tech industry, for example, has continued to buy office space.
For employees, this approach gives them the opportunity to find a workplace that fits both their lifestyle and location. A recent report from CBRE said, "By creating thoughtful and engaging satellite offices proximate to concentrations of workers, these offices serve as magnets, attracting employees and promoting culture, collaboration and innovation."
How to Choose a Corporate Location
After rethinking what your corporate location model might look like, you still have to choose the location — or locations — that work best for your business as well as your employees. There are three key components to consider when creating your strategy.
Embrace a diversified footprint. Prior to the pandemic,

many corporations believed

that consolidated campuses not only reduced real estate costs, but that they also led to better employee career paths and made it easier to build a strong culture. But embracing geographic diversification and promoting the idea of more locations can help reduce the risk of disruption to business operations, CBRE says. It also provides companies with the chance to enter smaller, lower-cost markets and lessens the competition for top talent.
Community is key. Rather than seeing a location as the ideal spot for your business, it's crucial to try to imagine it as a great place for your employees to live — not just work. Locations are communities, and they should be viewed as such.

According to

Harvard Business Review

, "Investing in those communities and in the full complement of capacities they need to build and sustain more fruitful relations with the places in which they choose to locate."
Think outside the usual contenders. HBR also underlines the importance of thinking beyond what we might think of as "superstar cities," places like Los Angeles, New York City and Seattle. Although they may seem like ideal spots for employers and employees alike, there are several causes for concern, including rising rent prices, traffic, and gentrification. Instead, try looking at smaller cities with lower costs of living — they may not have the same star power, but they still have plenty of advantages that will help you appeal to top-tier talent.
Let Allied Be Your Partner
Whether you're rethinking your HQ location or looking to diversify your company, Allied Van Lines is your go-to corporate relocation and mobility partner. Our customer-centric focus ensures your needs are put first, and our centralized structure is focused on cost, communication and compliance control. No matter the size of your company, Allied has a solution that will work for you and make workforce and workplace mobility painless.
Allied Van Lines, The Careful Movers, supports local, long-distance and international moves — large and small — and is the largest mover network in the world. With over 90 years of experience, we're here when you need us to ensure your company and your top talent move forward into the future, together. Learn more.