As we all know, the only thing that is constant is change.
Technology and Millennials in the workplace have become more prevalent, evolving the way moving for work happens all over the world. Everyone is challenged with smaller local talent pools, fewer resources and less time.
Our parent company, SIRVA, is a global moving and relocation service provider. The company conducts a comprehensive Mobility Report each year. For the most recent report, almost 250 participants representing 235 organizations from a variety of industries took part in the survey.
Here is some of what we learned regarding workforce mobility challenges today:
A majority of organizations have experienced a shift in the role of the global mobility function in the past 24 months, most of this being driven by strategic business objectives requiring talent deployment.
A large majority – 80% of organizations – said deploying talent was important to the success of the organization, which means more relocations and the need to be more agile in business today.
1 in 2 participants rated career/work experience outside of an employee's home location as a key requirement for career advancement. This is particularly important in global organizations.
When it comes to mobility, cost management was the #1 challenge, followed by efficiency and then speed. The burdens of less time and fewer resources to get the job done persists.
The top three challenges for organizations are:

Even though we increasingly rely on technology to help us work better and faster, mobility has become increasingly complex and technology still does not replace the human touch.
There are so many moving parts – from area tours to making sure employees have clear, consistent communication every step of the way, to assisting spouses with finding a job in their new location – relocating talent is a heavy lift if you want to do it well.
Because there are so many moving parts to mobility, having myriad vendors as part of the process can create more challenges such as – conflicting communications, inconsistent policy compliance, overlapping scope and other inefficiencies. A global need adds even more complexity.
Consider the top three mobility challenges from our report - cost management, process efficiency, and speed to deploy. We believe a truly integrated solution can a have positive impact on each of these current challenges.
Allied Corporate Relocation Solutions has recognized these challenges and developed an integrated solution. Our clients can now streamline everything with one partner. We offer single-source, managed, end-to-end service—including commercial moving and storage solutions—to meet global workplace mobility needs.
Our services can be delivered anywhere in the world—by one company—via a single point of control—and under one contract. Our resources span the globe.
Here's a snapshot of everything we can help you cover:
Moving household goods including warehousing and storage
Corporate relocations services including policy consultation and design, home sale and purchase programs and temporary living services
Commercial Moving Services including group office moves, industrial moves, installation, reconfiguration, disposition, donation, disposal and recycling of assets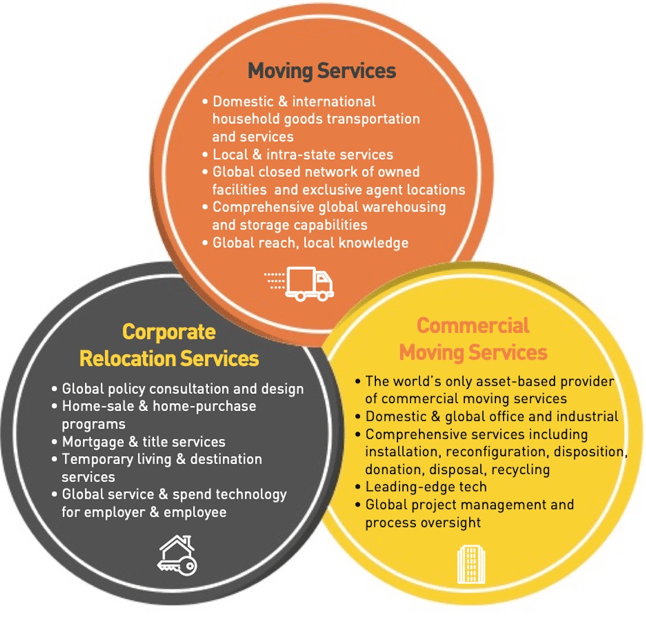 >> Commercial moving and corporate relocation services are managed and provided by our parent company, SIRVA, Inc.
This comprehensive approach with one partner enables your organization to have clear policies, processes, communications and centralized tools and resources for your mobility program.
Our experienced team can help you increase accountability, improve efficiency and provide your organization with a cost-effective way to design and deploy a comprehensive mobility program.
Let us know if you're ready to design a more agile workforce mobility program at your organization.
For more information, contact Jay Kuczka at jay.kuczka@alliedvan.com or at 303-263-4460.