Moving to a new city on your own can seem intimidating, but it's a great opportunity to explore a new city and meet new people. Reference this guide for helpful tips on navigating this exciting new chapter in your life.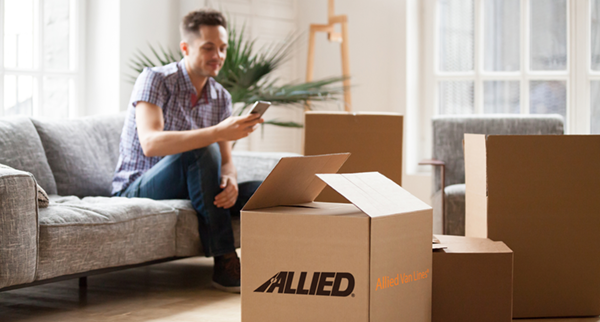 RESEARCH YOUR NEW CITY
Before you move to your new city, take some time to research it. Get familiar! Distinguish which neighborhoods you find attractive and why. Is your favorite grocery nearby? Maybe there's a gym right around the corner with your favorite fitness class. Take the time to list out what you find important about your current neighborhood and try to replicate that in your new plan.
Some neighborhoods skew toward different crowds depending on similar interests, so get to know the ins and outs of your new city. If you can, plan a trip to give yourself a preview so you can imagine your new place of living, which can take some of the stress off the move.
PLAN FOR YOUR MOVE
There are a lot of steps that go into a successful move. When you are moving on your own, it can become overwhelming quickly. To help ease your mind, take time to plan out your move. Creating a master list ahead of time with all the tasks you need to complete before your move out day will help to alleviate stress and ensure you stay on top of important tasks.
For more guidance, access Allied's Move Guide for helpful tips to prepare you for your moving day. It covers all the bases from eight weeks out to ensure your move goes according to plan.
HOST A PACKING PARTY
Packing your life into boxes can be time-consuming and stressful, especially when you would rather spend your last few weeks with friends and loved ones. A great way to do both is by inviting friends over to help you pack. Order in some pizza and grab your friends' favorite drinks to turn it into a packing party!
While you are packing you may find you have items that you no longer need or use. If these items are gently used, donate them! At Allied, we have partnered with The Salvation Army to make it easier for customers to donate their items. Through a quick scheduling process, unwanted belongings can be picked up, free of charge, and taken to local Salvation Army stores, where all items purchased directly fund adult rehab programs that change lives and restore families. Learn more about the partnership.
CHOOSE THE RIGHT RESOURCES - CORPORATE EXPRESS
Loading up all your boxes on your own can be straining. Let professionals do the heavy lifting for you! Hiring movers can really take a load off of you and allow you to focus on getting yourself to your new home.
As moving experts, Allied Van Lines understands that smaller shipments need specially designed services. That's why we launched our Corporate Express service, designed for smaller relocations. Allied utilizes smaller containers capable of holding 1,000 pounds of household goods—the equivalent of a one-bedroom apartment. Instead of loading your items onto a large truck and waiting weeks to receive it, these containers provide faster transit times, no extra surprise charges, and straight forward pricing.
Corporate Express allows you to specify a pick-up and delivery date that works for you, making your move a simpler, smoother transition. Learn more about how Allied's Corporate Express can work for you.
EXPLORE YOUR NEW CITY
You made the move, now it's time to get out and explore your new city! Familiarize yourself with your new neighborhood. Find your go-to grocery store and the local hangout spot. Push yourself to step outside your comfort zone and meet new people. Your new city is full of possibilities, go out and embrace it all!
Moving to a new city can be intimidating, especially when you're braving it all on your own. Be patient and enjoy this new chapter. Adventure awaits!
If you'd like more information or have any questions, please don't hesitate to contact Ricardo Ramos-Seyffert at ricardo.ramos@alliedvan.com.