The holiday season is upon us! As we gather to spend time with loved ones and give thanks, we are reminded of the importance to give to those in need.
At Allied Van Lines, we believe the best way to spread holiday cheer is by helping those in need. Through our partnerships with The Salvation Army and Move For Hunger, we provide your employee with simple donation solutions that help to bring relief to those struggling.
All year long, Allied Van Lines is the single-source solution for all your corporate relocation needs. We are committed to providing simple ways to donate all types of items while transforming the lives of those in need and strengthening your community.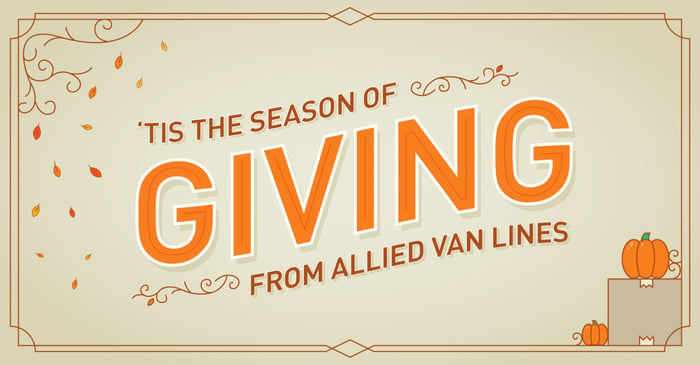 THE SALVATION ARMY PARTNERSHIP
Allied Van Lines is a proud partner of The Salvation Army. Beginning our exclusive partnership back in 2015, over 6,200 pickups, estimated at a value of $569,747, has been donated to local Salvation Army Family Stores. All proceeds directly fund the Adult Rehabilitation Centers to help repair the lives of those struggling with addiction.
The Salvation Army Adult Rehabilitation Centers serves 150,000 people annually providing emotional and social assistance to those who have lost the ability to cope with their problems and provide for themselves. By donating belongings, you are giving hope, changing lives, and restoring families.
To schedule a free pickup, call 1-800-SA-TRUCK or go to SATruck.org and give someone a second chance in life. To learn more about the partnership, visit https://www.allied.com/partners/salvation-army.
MOVE FOR HUNGER PARTNERSHIP

Allied Van Lines is a proud partner of Move For Hunger, a nonprofit organization mobilizing the relocation industry to reduce food waste and fight hunger. Currently, 1 in 8 Americans are food insecure, as a partner of Move For Hunger, we are dedicated to fighting hunger and bringing much needed support to local food banks across the country.
During a move, we will collect your unwanted, non-perishable food items and deliver them to local food banks. Through our network of diligent agents, Allied Van Lines has donated over 3.3 million pounds of food to food banks, feeding over 2.7 million people.
To learn more about our partnership and how you can help struggling families across the United States, visit https://www.allied.com/partners/move-for-hunger.
Allied Van Lines is committed to helping those in need while spreading hope throughout communities.
If you'd like to work with a corporate moving partner that gives back to the communities we share, please contact us to learn more about our corporate moving solutions.