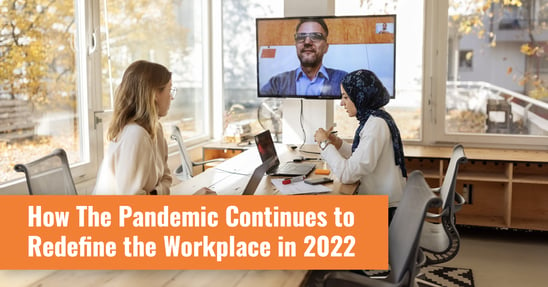 As we enter the third year of the COVID-19 pandemic, with a new variant and continued spread of cases across the world, many organizations are rethinking a return to the office. Some offices are closing again while others haven't seen employees since March 2020.
The constant fluctuation and uncertainty of the pandemic have many companies questioning how to reconfigure their workspace, work models and culture.
Should I Stay or Should I Go (Remote)
With almost three years of uncertainty alternating between remote and hybrid work models, many companies are at an impasse: should they keep their current office space and anticipate employees returning to the office at some point? Or should organizations reduce their space and prep for a remote or hybrid work model going forward?
Fortune Magazine reports that 74% of Fortune 500 CEOs are anticipating a reduction in office space. Last spring, Jamie Dimon, CEO of JPMorgan Chase, announced that his organization would continue utilizing a hybrid model post-pandemic. The company anticipates that this change will result in a significant reduction in its need for real estate, estimating it will only need 60 desks for every 100 employees.
In 2021, vaccines become more widely available and COVID cases started to decrease, giving companies the opportunity to reopen and welcome employees back into the office. However, just a few weeks after companies began reopening their doors, the new Omicron variant sent cases skyrocketing and employees back home. This unpredictable climate makes decision-making difficult and has already shown that plans can change on a dime. Data collected by The Morning Consult shows that, at its lowest on November 6th, 2021, 24% of remote workers felt uncomfortable returning to the office. As of January 6th, 2022, that number has nearly doubled to 43%, on an upward trend.
With constantly changing variables and companies further acclimating to remote and hybrid workplaces, corporations are considering permanently embracing alternatives to the traditional 9 to 5 office.
Reimagining the Office
Many companies have already made the decision to move forward with hybrid work programs and are reevaluating their office spaces as a result. These organizations are opting to reimagine their workspace and argue that less time in the office doesn't mean they need less space. "A 24% reduction in office time does not equal 24% less space," says Todd Doney, real estate broker at CBRE. Organizations like Capitol One who plan to have employees come into the office on the same days will continue to need plenty of space to ensure all employees have separate desks.
Google, who began reevaluating its office set-ups prior to the pandemic, is integrating hybrid solutions into its already innovative office spaces. In addition to design changes geared toward attracting future workers, Google is creating workplaces that facilitate in-person and remote collaboration. By creating solutions that integrate remote and in-person workers, adding outdoor workspaces, and instituting a rotating schedule for in-office work, Google is on the front lines of adapting to a post-pandemic world in the workplace.
What Does the Future Look Like?
The office spaces of the (near) future need to function well for a blend of remote and in-office employees. It is unlikely that the majority of companies will return to pre-pandemic styles of working as many were already trending towards a hybrid or remote model.
However, there is a major disconnect between management and employees' views on remote and hybrid working. Gallup reports that 90% of remote workers want to continue working remotely to some degree. Many employees believe working remotely has helped them be more productive while managers think having employees in-office is better for the organization as it facilitates collaboration and builds trust.
Despite this disconnect between employees and managers, it appears that hybrid and remote work set-ups could become a new norm. Many industry leaders, such as Salesforce, Deutsche Bank, and Apple, have already announced permanent plans to continue with remote work in some capacity. If companies want to retain talent and attract new recruits in an increasingly employee-focused economy, adopting remote work must be a consideration especially for knowledge worker roles.
The Careful Movers®
As companies examine the post-pandemic workplace, Allied is here to help organizations with any office moving needs including moves to new locations that better suit the new paradigm. With The Careful Movers®, you can rest assured that your relocation will be smooth, efficient, and handled by professionals who are experienced with moving companies of all sizes worldwide. Learn more.