While most are decking their homes in preparation for the holidays, you are dealing with a less joyous task: packing boxes and planning for a move.
Is it the most wonderful time of the year? Yes! Is moving one of the more stress-inducing experiences in life? Also, yes! Don't let these stresses turn you into a Grinch this season. We've provided helpful moving tips and tricks to give you some insight on how to dash through a merry move over the holidays.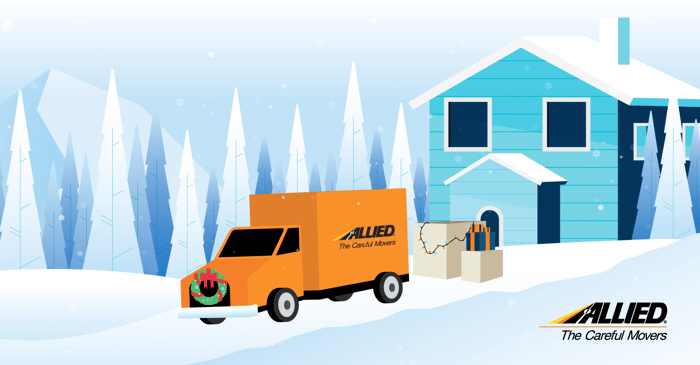 PLAN AHEAD + SAFETY
Planning is important for a move at any point in the year. But when dealing with the chaos of the holiday season and potentially inclement weather, it's even more key to look ahead. A couple things to remember for planning a winter move:
Contact your utilities provider to ensure your heat and electricity have been set up in your new home before you arrive. You could even have it turned on a few days leading up to move-in day so that your new place will be heated up when you get there.

If

you're planning on drivin

g, be sure to have your car inspected before embarking on your long- distance move. Depending on your location and the amount of weather, be sure your tires are suited for driving on snowy roads.

In case of an emergency, be sure that your car has the proper winter supplies for your travels to the new home. Everything from winter apparel for yourself to scrapers, shovels, and road salt to combat the snow will be handy tools in the case of any travel issues that may pop up along the way.

For those moving in snow-ridden areas of the country, be aware that the weather is definitely capable of delaying your move. Be prepared and be flexible in the face of inclement weather if you need to rearrange your moving dates. Your professional moving company and real estate agent will be a great help if a rescheduling issue should arise.
To help ease your mind, create a master list ahead of time with all the tasks you need to complete before your move out day. For more guidance, access Allied's Move Guide for helpful tips to prepare you for your moving day. It covers all the bases from eight weeks out to ensure your move goes according to plan.
PACKING
While packing, it's important to be aware of the weather and how your items will be transferred to and from your house, the truck, and your new home! With the colder months, there's also a strong chance for some type of precipitation. Whether that be rain or snow (or both), you'll want to make sure that you take the proper precautions to keep your items dry and free of damaging elements.
Items that you would like to keep completely free from precipitation should be packed inside waterproof materials. From linens to furnishings to electronics, make use of plastic bags and other specially lined packing materials to steer clear of water-damage.
Though you're moving, you can still make the most of the holiday season! Pack your holiday decorations and wardrobe separately from your other items, clearly labeled as HOLIDAY ITEMS. Have these boxes delivered to an easily accessible part of your home so you decorate your home effortlessly as you unpack your everyday home goods.
DONATING UNWANTED GOODS
Finding an affordable moving company that provides outstanding customer service is important. Choose a company that offers additional services and valuable resources that will make the move that much easier on you.
Through Allied's partnerships with The Salvation Army and Move For Hunger, Allied customers have the right solutions to have their unwanted belongings and food items collected and transported so they can find peace of mind while focusing on the logistics of their winter move.
The Salvation Army Pick-Up
Decluttering is one step of preparing for a move and also a great way to get a head start on your New Year's Resolutions. But what to do with those unwanted belongings? With Allied, unwanted goods can be picked up and taken to a Salvation Army store, where all items purchased directly fund adult rehab programs that change lives and restore families.
The Salvation Army Adult Rehabilitation Centers provide housing, food, counseling, and employment for program beneficiaries as they work to address the root causes of prolonged alcohol and drug dependence. Through a simple 5-step online form, you can have your unwanted belongings scheduled for a free pickup in a matter of minutes or simply call 1-800-SATRUCK (1-800-728-7825). Learn more about this resource.
MOVE FOR HUNGER
Creating a plan for clearing out the pantry before a move is almost always an afterthought. With Move For Hunger, Allied picks up unwanted, non-perishable food items during your client's moving process and then transports it to local food banks.
Not only do our efforts take some of the pressure off of you during this move, it also brings relief to struggling families across the United States during a season focused on family and giving. Save money and help feed those in need all at once. Learn more about this resource.
Follow these tips and tricks to ensure your upcoming move is as merry and bright as possible. Once your unpacked, sit back and relax with some well-deserved eggnog!
If you'd like more information or have any questions, please don't hesitate to contact Ricardo Ramos-Seyffert at ricardo.ramos@alliedvan.com.