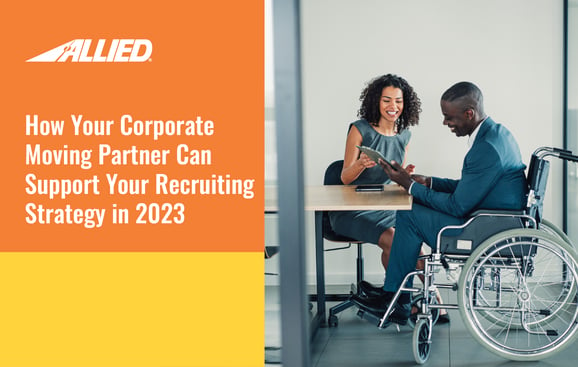 Recruiting new talent is expected to be a continued challenge in 2023. Prospective employees have become more selective with the companies they'll apply to and the jobs they'll accept – especially now that remote work has opened more opportunities.
In a recent HR Dive survey, nearly 37% of human resource professionals ranked finding and acquiring new talent as their top priority, and their top stressor. Companies need to put their best foot forward to stand out in the talent market and attract the best possible candidates. Here are a few ways your corporate moving partner can help you not only attract new hires, but also keep current employees happy and motivated.
Entice Talent with a Great First Impression
Better benefits and a balanced work culture are two of the top criteria for those on the job hunt. By listing relocation support on your job listing, you're immediately telling candidates that your company is willing to invest in them right away. Prospective hires will recognize that the company is compassionate and supportive by committing the money and effort to move a new employee and their family, which indicates a people-first culture and an investment in helpful benefits.
Expand Your Hiring Radius
If your organization is requiring any in-office time, whether fully or partially, it can be a little more difficult to attract candidates who might prefer fully remote positions. A talent mobility program expands your reach beyond the office location, growing your field of candidates by enabling your recruiting team to seek out the best possible hires without the limitation of address.
When reaching out to a prospective hire outside your city or state, be clear upfront that the position is onsite at least partially, but let them know that relocation benefits are available. This empowers you to compete with companies who have expanded their recruiting with fully remote jobs.
You can ensure that regardless of where your employees are moving from, they'll always have a positive moving experience by partnering with a trusted, national organization like Allied Van Lines. We have moving agents across the country to assist with any and all corporate relocations.
Extend Relocation Benefits to Interns
With a corporate relocation program, interns can also be sourced from anywhere in the country. And they would greatly appreciate the benefit, too. After many internships have gone virtual over the last couple years, students are asking for more in-person experiences. A recent Glassdoor survey found that 70% of interns did not enjoy having a remote internship and would prefer to be onsite.
Internships are a great way to find new hires, so it's important to provide a positive experience from the start. Businesses can offer a smaller corporate relocation option for interns joining from another city or state. This can be in the form of a lump sum offering to handle moving expenses, or a specific service to manage small moves like Allied's Corporate Express solution.
Enable Growth Opportunities for Current Employees
Corporate moving benefits don't have to be limited to new employees. Retaining your existing workforce is just as important, if not more so. To keep employees motivated and loyal to your company, it's crucial to offer opportunities for career growth and advancement, which can often include relocation.
A Cornerstone career trends report found that 77% of employees would choose to relocate if given the opportunity, even temporarily. People crave new experiences and are more likely to remain loyal to one company when they're able to explore new places and roles within the organization. You can offer relocation benefits to employees who want to work in different office locations for a much lower cost than replacing an employee who grew stagnant.
Entrust Allied with All Your Corporate Moving Needs
Relocation opportunities are becoming a must-have in the talent market, both for recruiting new talent and retaining existing employees. Despite the big wave of remote work, a large portion of people still want at least a hybrid schedule that allows for some onsite work. Offering a talent mobility program enables you to find the right people for the right job, and quickly get them to the right place.
Allied, in partnership with its parent company, SIRVA BGRS, provides seamless moves for employees across the country. We have over 90 years of experience in handling moves of all sizes, and can ensure your employees and their families have a safe, positive moving experience every time. Learn more about our corporate moving services and contact us to discuss how we can partner with your recruiting team.