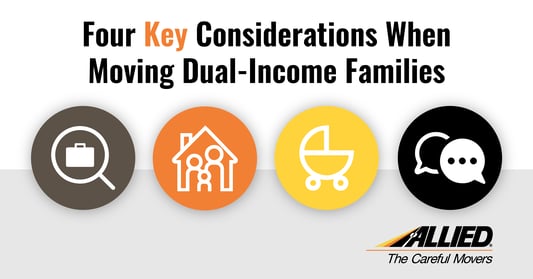 No matter the reason for a work-related relocation — whether it's to start a new job at a new company or a different role at the same organization — it can be an overwhelming process. From finding a new place to live to getting belongings there smoothly, there's no shortage of things to consider when making a move.
That list of to-dos can grow especially lengthy when a potential or current employee is part of a dual-income family, which is becoming more and more common. An article from SHRM.org says, "Today's workforce is more populated with two-career couples, and moving so one partner can advance may result in stalling the other's trajectory."
Ensuring that a partner is either able to relocate while staying at their own company or find a new place of employment adds another layer of difficulty to an already stressful time. It's no wonder, then, that when it comes to reasons to decline a relocation offer, 45% of employees say no because of a partner or spouse's employment.
But by creating a strategy that supports an employee's whole family, companies can alleviate some of the burden of relocating and help their employees feel confident in accepting an offer or new position within an organization. Here are the top four things to consider when moving dual-income families.
Support Job Searches for Partners and Spouses
To help employees that are part of dual-income families, it's essential to invest in the whole family and provide support when relocation is on the table. That can mean lending a hand to partners or spouses who will need to find a new job when their family relocates.
One way to help is by providing connections to job opportunities in the new city that your employee is relocating to. By opening up a network to the trailing partner or spouse, they can more easily plug into their industry in a new city and begin their job search.
You can also consider sharing full-time or contract opportunities at your organization that match the trailing partner's skill set. This, of course, doesn't mean guaranteeing that you'll hire a partner or spouse, but sharing relevant job listings can provide a place to start.
Provide Resources for New Markets
For some workers and their families, moving to a new city or state means an exciting adventure; for others, it can be a more overwhelming challenge, with complicated logistics and other stressful considerations. Allied's own research has found that nearly 34% of people feel that acclimating to a new community is the most challenging part of relocating.
To help your employee and their family settle in comfortably, extend resources that can help them establish roots and get connected in the market. This could be as simple as giving employees a list of local attractions and restaurants
Another way to do this might be providing a list of local networking groups, or, if a move is international, access to cultural and language resources. Providing contacts for real estate agents can also help your employee and their family more easily secure housing.
Making this information available can smooth the way for a successful relocation and help your employee and family feel comfortable in their new home.
Consider Child Care Options
For dual-income families that have children, providing support focused on their kids can go a long way in making the relocation process go more smoothly. One way to do this is by covering child care expenses while an employee and their partner are searching for a house in their new market.
Companies should also consider what child care will look like for a family in a new market. Providing information on child care options and local schools may help in making a decision about where to live in a new city. And if you're providing a list of resources, be sure to add on child-friendly attractions that might appeal to the whole family.
Be Flexible and Communicative
Another way to support dual-income families during a relocation is by remaining flexible. Although it may not always be possible, being willing to delay an employee's start date at their new location can give their spouse or partner time to secure a job they're passionate about. Allowing your employee more time to relocate can help shorten a possible period of unemployment or income loss for their partner and spouse.
It's also important to clearly communicate what type of support your company will be providing before, during and after the relocation process. What sort of relocation benefits can your employee expect? Will you be providing assistance with finding a new place to live, or giving your employee relevant information about their new city? By establishing direct communication with your employee, they can better prepare themselves and their family for the move.
Regardless of the reason, relocating to a new city or state is an involved process. But companies can do their part to provide support and informative resources to their employees — and new and old — and their families. By offering help before, during and after the moving process, your organization can help employees and their families feel valued and make relocating less of a burden.
If your company is searching for a partner to support your corporate relocation needs, Allied Van Lines can help make every move easy and stress-free for you and your employees. With a vast agency network and single-source, managed, end-to-end service, Allied can provide you with the best options for your company's moving needs.
Allied Van Lines, The Careful Movers, supports local, long-distance and international moves — large and small — and is the largest mover network in the world. With over 90 years of experience, we're here when you need us to ensure your company and your top talent move forward into the future, together. Learn more.